Uganda Missions Update
The amazing story continues...
We just got an e-mail from Jim who was at Hines Ugandan Ministries this summer... "Phyllis (his wife), Pastor Charles (the pastor who came here and is pastor in Komankoli) , Bumba (one of Katherine's adopted children and a leader at HInes) and I went to the well today to put the plaque on the memorial marker. We were met by Dr. Moses, head pastor for all the churches in the Soroti area. We traveled to the site which is about 40km outside Soroti in the deep bush. The nearest bore hole to the well you (Kevin and Rhonda Coleman)put in is over 30km away! There are 4 congregations that are sending their villagers and members to this beautiful site! That's somewhere between 350 to 600 people who had no close supply of water!
I was fortunate to be on site during the discovery of the best well site. The local pastor, also a Pastor Charles, told me the incredible history of this site. In the picture above I have a picture of a very large mango tree. It's on Pastor Charles' family compound and it is known as "The Office." Under this tree, Joseph Kony gathered his murderous followers and terrorized the area.
God, though, had other plans! Kony was pushed out of the area by General Museveni. The families regained their property and today a church also stands on the property. What man meant for evil, God meant for good.
The location of the well is a beautiful biblical statement. From the well you can see the entrance to the church! I am deeply reminded of John 4 and the Samaritan woman at the well! In this place you can get plenty of clean physical water, but you can also get the Living Water! Pastor Charles told me today that he thinks about that all the time!
And here is a new story today! Pastor Charles told us the police came to him and told him he could hold church services very early on Sunday mornings because they felt the only thing that would change our current situation was the prayers of righteous people! So every Sunday there are services at 6:00 AM and 7:00 AM. And the people come the church with their jerry cans to fill them up with water after they have been filled with the Living Water."
Ryan King & Family- Peak Bible Church Plant
Grace Bible Church of Parachute was a church plant before we ever became a church and we, in turn, have been a part of planting churches. At an IFCA meeting not long ago it was noted that there was a need for another church plant on the front range and all churches were encouraged to begin praying and supporting this endeavor.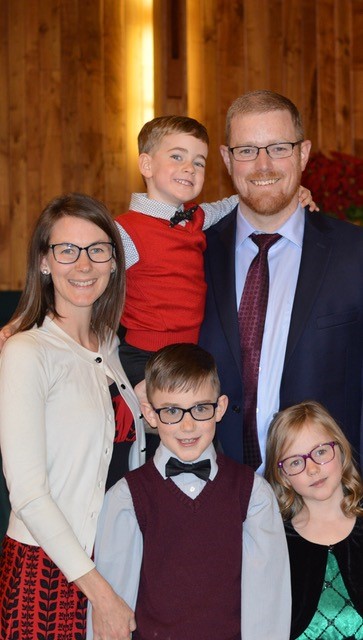 God has been moving things VERY quickly in response to prayers and the plant already has a pastor, Ryan King. Also, an opportunity has arisen from a church who were going to close their doors... for the plant to take over their building and for those who want, to join the new church that's just beginning!
Please be praying for their upcoming first meeting as a new church as Peak Bible Church, for Jesus to be the center of their planning, for all the details as they work on founding documents, choose leadership, and more.
Kevin & Kim Whelan
Who is Cadence International?
Cadence International an evangelical mission agency dedicated to reaching US and foreign military personnel and their families with the good news of Jesus Christ. Founded in 1954, Cadence Mission focuses on sharing the gospel and our lives with the military community.
More than 200 Cadence staff serve all branches of military at more than 50 locations in the US and overseas, with focused ministries to adults, students, children, retreats, foreign military, LifeCompass and internships.
Why Military?
Military people are brave, hard-working, risk-takers, mobile, flexible, and able to follow orders at a moment's notice. Soldiers, Sailors, Airmen, Marines, and Coastguard are all in. They are even willing to lay down their lives for those they have promised to protect.
Military people face unique challenges from isolation and danger to deployments and extended time away from their families. Many of them are young and on their own for the first time. They move often, and they usually build relationships quickly. Their spouses and children are special group of people also in need of focused ministry.
Cadence has seen the lasting power and far-reaching influence these military people can have when they follow Christ. They are the people group Cadence is called to and we are honored to serve them.
What Do We Do?
Share the gospel and our lives by opening our homes to military men and women and their dependents.
We offer Bible studies and fellowship activities.
We disciple and mentor.
We work alongside military chaplains, teaching and leading programs and outreaches as requested by them.
We provide ministry opportunities for military people to share their faith and experience world missions.
"We loved you so much that we were delighted to share with you not only the gospel of God but our lives as well, because you had become so dear to us."
I Thessalonians 2:8 (NIV)
Cadence International
800-396-6680
PO Box 1268
Englewood, CO 80150
Cadence.org